Two students see the world through the lens of wine
SASHA PAULSEN Napa Valley Register
Posted: Friday, August 13, 2010 12:00 am |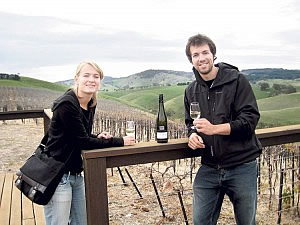 Georges Janssens of Napa met Anja Cheriakova when he was studying at the University of Utrecht in Netherlands. The two have set out to travel the world while collecting wines for an auction to benefit the Lao Rehabilitation Foundation, founded by George's father, Luc Janssens.
Follow the tour, make a donation or learn more about the World Wine tour at worldwinetour2010.com. For more information about the Lao Rehabilitation Foundation Inc, visit laofoundation.com.
There are students who set off to see the world, and wine lovers who plan their itinerary around the grape, Anja Cheriakova and Georges Janssens have charted an adventure with a humanitarian purpose as well: They're collecting bottles of wine as they travel, and these donations from the global wine industry will be auctioned off next spring at an event in Hong Kong to help rebuild a Laotian school destroyed by flooding.
This project is only one undertaken by the Lao Rehabilitation Foundation Inc. founded by Janssens' father, Napa artist and educator Luc Janssens. Dr. Janssens founded the philanthropic group in 2002 to improve the lives of impoverished Laotians, especially the children. Since its founding, the group has brought medical missions to remote parts of the county, provided equipment and supplies, and built schools, including a House of Light for blind children.
For Georges Janssens, who grew up in Napa, the choice of wine as a way to support his father's projects was natural: His mom is one of the valley's most respected winemakers, Genvieve Janssens, who has been with the Robert Mondavi Winery for nearly two decades. She and her husband have created a special label of wine, Portfolio, sales of which also support the foundation.
Georges Janssens, who graduated from UC Davis, was doing graduate work in biomedical studies at the University of Utrecht in the Netherlands when he met Anja Cheriakova. A native of Belarus, she had immigrated to the Netherlands as a child with her family. Fluent in many languages, she was studying psychology.
"I had always hoped to see the world," she said, "but I had never really drunk much wine." That quickly changed when she met Janssens and they began to plan their charity world tour. Their goal, Janssens explained, was "to visit the best wineries in the world and collect one or two bottles — of the very best."
"It took more than a year to organize," Cheriakova said. The day after Janssens graduated, they set off heading east for their first stop, Russia. They took the Trans-Siberian railway to Mongolia, where, they noted, they did not find wine, but did taste fermented camel milk.
China was their next stop, and they explored Southeast Asia, including emerging wine regions in India, Thailand and Vietnam. They made another stop in Laos, not to collect wines, but to spend time helping on the Lao Rehabilitation projects.
From there, they traveled to South Africa, which was celebrating 350 years of winemaking. Then it was on Australia and New Zealand. Traveling frugally, student style, they are renting campers in most places.
In July, they landed in the Napa Valley for a visit home for Janssens and an opportunity to add some wines from California, Oregon and Washington to their collection.
Along the way, they've chronicled their adventures in a blog on their website, www.worldwinetour2010.com/about.html. There they also credit to the generous support they've received from sponsors and wineries. Among these are JF Hillebrand, who is shipping their wine donations. The growing list of supporters also includes Seguin Moreau cooperage, Robert Mondavi Winery, Why Why Wine, a Moscow-based wine-news website, and wine writer Jancis Robinson, who wrote "I wish you both luck on this great venture and look forward to publishing your news and impressions as you travel around the world of wine."
New supporters are signing on all the time, the couple told the Register. Next week, they head to New York, where Uncork New York has become a sponsor. After visits to the Finger Lakes and Niagara regions, they'll head to South America where, they said, they were excited to learn that Wines from Brazil and Wines from Chile are also on board.
While collecting wines is their primary focus, they've found time to join in other activities — helping plant trees at a restoration project at Jacobs Creek winery in Australia was one of their most recent endeavors.
"Through the lens of wine we are looking at the world and how it's changing — learning history as well," said Cheriakova, who is working on her masters thesis (how wineries are networking globally) during their journey. "We are seeing so much, sometimes we have to stop and reflect on what we're doing."
After South America, the final leg of their journey will take them back to where they started, Europe.
More details on the 2011 auction will be posted on the website as they evolve, the couple said. Although they had originally hoped to hold it in the Napa Valley, the government regulations for shipping all their wines to the U.S. proved to be too onerous. Nonetheless, they hope to have a good showing from the Napa Valley at the event.
The generosity of the world wine industry in helping them is not entirely unexpected, Janssens said. "To survive in this industry, you have to be really passionate about what you're doing," he explained, "and with that goes a lot of heart."