The Lao Foundation has received the following accolades and recognitions for its work:
February 2014: Unsung Heros of Compassion; the Dalai Lama
Fifty-one honorees gathered together on Sunday February 23rd, 2014, to be acknowledged by his holiness Tenzin Gyatso the 14th Dalai Lama in recognition of their contributions to humanitarian efforts. These 24 women and 27 men, ranging in age from 16 to 85, are working in 18 countries worldwide. Among them was Dr. Luc Janssens founder of Lao Rehabilitation Foundation. The event, called Unsung Heroes of Compassion 2014, was held at the Ritz-Carlton in San Francisco before a jam-packed ballroom with 700 guests, and broadcast through a live webcast around the world.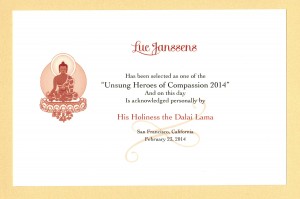 Recognitions from the Government of Lao PDR & Other Organizations
Click on each link to download certificates in PDF format:
2022
2021
2018
2017
2016
2015
Previous Years: