While visiting our projects in early January 2007, we were alerted by Dr. Leila Srour about the tragic accident of Pheng. The 20 year old boy had been struck by lightning while working in a rice field in his village near Luang Nam Tha. Pheng, who survived the ordeal, was burned over 70% of his body and left suffering several months with minimal care. In coordination with Her Excellency Karen Tan, Ambassador of Singapore in Laos, a team of surgeons headed by Professor ST Lee flew to Vientiane with necessary supplies and provided extensive surgery for Pheng. The Lao Rehabilitation Foundation coordinated the logistics of flying Pheng to Setthathirath Hospital in Vientiane, covered all hospital expenses, and provided food and lodging for his father who accompanied him on the journey. Pheng is now doing extensive rehabilitation work at Setthathirath Hospital and we hope to fly him back to his village by mid-April, after a 3 month stay in the hospital.
Airlifting Pheng in to Vientiane
Pheng post-surgery – The Singapore surgical team
After 7 months of hospitalization, numerous skin grafts and other surgeries, we brought Pheng and his father back to their village near Luang Namtha in the North of Laos in July 2007. To facilitate frequent visits from his family to the small hospital where he will reside for a few more months, we purchased a new motorbike for the family as they live at quite a distance from the medical facility.
Placed under the dedicated care of Dr. Indara Phetsamone, ophthalmologist, LRF provided financial support for Pheng's oculoplastic surgery in Bangkok in March 2008. The complex surgery was successfully performed by Dr. Nattawut Wanumkarng and his team. We expect to send Pheng back to Bangkok for corneal transplant surgery in a few months.
LRF provided Pheng with a new Yamaha keyboard in May 2008 when we went to visit him in Luang Namtha as he expressed a strong interest to play music. We expect him to do well, despite his handicap.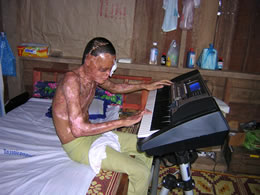 In 2009, LRF provided Pheng with an opportunity to visit the traveling Ophthalmologist team of Orbis International in Vientiane.