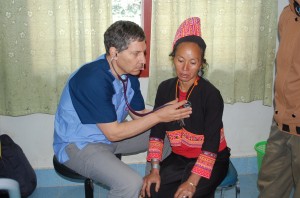 A team of health care professionals delivered mobile health care services in six main areas: dental, E.N.T., eye, internal medicine, expectant mothers and pediatric services, providing service to all patients free of charge, with no regard to gender, age, ethnicity or religion.
All services included experts and nurse assistants to examine patients by manual and automated equipment. Treatment and procedures were provided with excellent medicine and equipment. A total of 3,772 patients (Female: 2,140) were recorded, examined and treated in 3 district Hospitals. This included: dental 1,114 cases (F 647), E.N.T. 617 cases (F 332), eye 725 cases (F 277), expectant mothers 142 cases, pediatric 618 cases (F 383), internal medicine 415 (F 268), and children in primary school 142 (F 64).
42 cases required surgery, this included: 24 cataract surgery, 13 Pterygium, eyelid surgery, 3 cleft lip and 2 cyst/tumor surgery.
Click to download the Final reports of the Mobile Health Care Mission in Phongsaly of February 2014: part 1, part 2, part 3, part 4.